I love it when a plan comes together!
Building on our history of success with Camunda, BP3 Global is now officially a Camunda Certified Platinum Partner! Making us one of only two Camunda Platinum Partners in North America.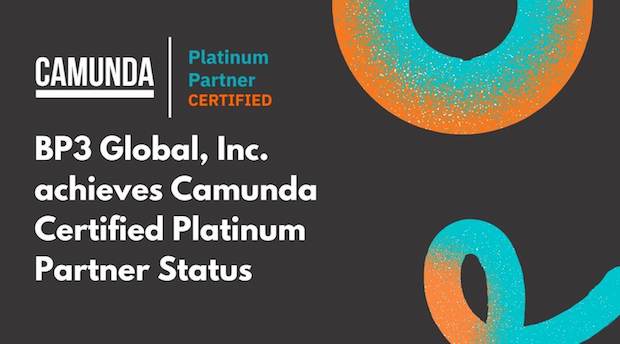 BP3 has been a certified partner with Camunda since 2018 and we are strong proponents of the Camunda platform and its ability to orchestrate and automate complex processes.
Everyone at BP3 worked hard to complete training and certifications to achieve this elite status.
For clients this new partnership level means BP3 Global brings:
The highest level of certified and experienced Camunda professionals
Access to new products, support, and critical resources
Proven experience designing and delivering solutions with Camunda
Camunda is a great company to work with. I've been working with software companies as a partner for years now. In that capacity, I get to see the inner workings of various organizations and what they value. When an organization values partners what they are really saying is they value customer outcomes.
Why do I think that? Before BP3, I worked as a product manager and one thing you constantly do in product is talk to analysts about your new features. The number one question I would hear from an analyst is "What partners do you work with to help implement this software". The analyst knew that when there is a strong partner community the success of the new feature or even the software was going to happen.
At BP3 Global, Inc., we love the software and technology partners that we choose to work with. We know that a strong relationship means we can find a faster way for our clients.
Thank you to Camunda for this Platinum recognition. 2021 has been a great year for our partnership and I am looking forward to 2022!
Learn more about the BP3 and Camunda Software Partnership.
BP3 Global Camunda platform and product skills include:
Camunda Platform consulting and implementation
Camunda BPMN workflows and DMN design and integration
Applications modeling, operations and analytics
Camunda Cloud consulting and services
Human Workflow Automation
Camunda Microservice Orchestration
Camunda RPA Tool Integration
Legacy BPMS Replacement Programs
Design and consulting to Build Workflow into Existing Software Products
Video from BP3 and Camunda - Watch Camunda CEO Jakob Freund and BP3 Global CEO, Scott Francis discuss the future of Digital Process Automation and RPA Software
Published on
November 2, 2021

Krista White
VP Marketing | BP3 Global, Inc.